Elvis Aaron Presley
---
Palm Springs Estate: June, 2010
The home Elvis had in Palm Springs will soon be open to the public. You can check their website out here
MEMPHIS, July 29 (UPI)
Even as Michael Jackson's former physician is under investigation in connection with his death, Elvis Presley's ex-doctor is defending his own past actions. Jackson, who died June 25 after suffering cardiac arrest at the age of 50, was briefly married to, then divorced from, Presley's daughter, Lisa Marie. Jackson's private doctor, Conrad Murray, has been interviewed by police and his home, offices and storage unit searched. Law enforcement sources reportedly said Murray is believed to have administered anesthesia to Jackson at the singer's Los Angeles home shortly before the entertainer died. Elvis Presley died in 1977 of a heart attack at the age of 42 after years of abusing prescription drugs. Dr. George Nichopoulos, 82, in his new book, "The King and Dr. Nick," due out in February, explains how he doesn't want his grandchildren to grow up regarding him as being responsible for Presley's death, the Memphis Commercial Appeal reported. "I don't regret any of the medications I gave him. They were necessities," Nichopoulos told TV's "Entertainment Tonight" of the drugs he prescribed Presley. Nichopoulos was acquitted decades ago of charges he overprescribed drugs to Presley, Jerry Lee Lewis and seven others, the Commercial Appeal said. Nichopoulos also dodged comparisons between the Presley and Jackson cases during his "Entertainment Tonight" interview.
---
LOS ANGELES, July 16 (UPI)
TV Guide Network says it plans to air a U.S. TV special on what it calls "eerie similarities" in the lives and deaths of Michael Jackson and Elvis Presley.

The one-hour program "Michael and Elvis: A Tale of Two Kings" is slated to premiere Sunday.

"TV Guide Network examines the eerie similarities surrounding the lives and untimely deaths of Michael Jackson and Elvis Presley. From the mega-stars' pop culture monikers -- 'The King of Pop' and 'The King of Rock 'n' Roll' -- to their fabled homesteads -- Neverland and Graceland -- and the unusual circumstances surrounding their deaths ... ," the network said in a news release.

Jackson, who died of cardiac arrest after a suspected prescription drug overdose at the age of 50, was briefly married to Presley's only daughter, Lisa Marie. The marriage ended in divorce.

Elvis Presley died in 1977 of a heart attack at the age of 42 after years of abusing prescription drugs.
---
Priscilla Presley has opened Elvis Presley's Stable at Graceland
for public tours for the first time ever in the storied history of Elvis Presley's home, Graceland.
Artifacts on display as part of The Elvis Presley Stable Tour will include saddles used by Elvis and his entourage, personal western wear including chaps, hats and boots all worn by Elvis. Other items include checks and documents related to the purchase of some of Elvis' horses, and home movie footage of Elvis on horse back at Graceland.
Built on the Southeast corner of Graceland by its original owners in 1939, the Graceland Stable currently houses four horses. After Elvis bought the 13-acre estate in 1957, he often rode his horses around the property and even up to the front gate to sign autographs for fans.
Elvis started to focus more on riding and horses in December 1966, when he purchased a horse named Domino for Priscilla, along with a variety of riding clothes and equipment for the Presley family's equestrian activities. Shortly after Christmas, Elvis bought what would become his favorite horse, a Golden Palomino named Rising Sun. The Elvis Presley Stable eventually became known as the "House of the Rising Sun" in honor of Elvis' favorite horse. Elvis went to great lengths to personally organize everything in the stable. His handwriting can be seen today on the wall where he wanted the tack and harnesses of each horse.
When Graceland opened for public tours in 1982 there were still five of Elvis' original horses being cared for on the property.
Rising Sun - a Golden Palomino American Quarter horse born in 1961.
Memphis - a bay colored Tennessee Walking Horse.
Moriah – Lisa Marie's black Shetland Pony.
Mare Ingram - a bay-colored Mixed Breed horse Elvis named for Memphis Mayor Ingram when Highway 51 in front of Graceland was named Elvis Presley Boulevard.
Ebony's Double - the last horse Elvis purchased for Graceland in 1975.
Graceland has had a number of horses over the years. Some were distant relatives of the original horses while others have been rescue horses.
Sun's Reflection - a Golden Palomino and a distant cousin of Rising Sun who was brought to Graceland in 1988.
Just Candy No Cash - a distant relative of Ebony's Double having come out the same Tennessee Walking Horse bloodline.
Max of Maine – came from a rescue unit called Six Horses Saved. Priscilla arranged to have Max come to Graceland and three moved to Virginia to a foster farm. Two remain with Six Horses Saved.
The Blue Eyed Bandit – rescued by Fayette County Tennessee Animal Rescue, Priscilla became involved and decided to move him to Graceland..
The Elvis Presley Stable Tour will be open Memorial Day through Labor Day.
---
Web site lets fans sing with the King
Dec 19, 12:58 PM (ET)
By JOHN GEROME


NASHVILLE, Tenn. (AP) - So you fancy yourself a singer, eh ... alone, in your car, with the windows up, when no one's looking.

Well, now you can test your pipes against Martina McBride and Elvis Presley in private, and if you like what you hear, you can share them with your friends via email.

As a promotion for "Elvis Presley Christmas Duets" album, Sony BMG Music Entertainment has created a Web site that allows you to record "Blue Christmas" as a duet with Presley, singing McBride's part from the album.

The site, , provides a phone number and access code so you can belt out your lines over the phone. If you're pleased with the recording, you can send it in a Christmas ecard. Just go to Sing With the King web site.

Or, if you discover you sound more like Alvin and the Chipmunks than Presley and McBride, you can send the album version of the song instead.

The whole thing is free.

"Someone in our digital area came up with the concept," said JJ Rosen, executive vice president of Sony BMG Music Entertainment's Commercial Music Group. "It fits the duets concept of the album so well."

Because the campaign leans heavily on technology, Rosen said it brings Presley and his music to a younger generation. "We're always trying to keep the Elvis brand alive."

The site launched Dec. 5 and has drawn 30,000 people from nine countries. It's scheduled to end sometime in January.

The promotion has been successful enough that Sony plans a similar one for Mariah Carey's upcoming release "The Ballads" for Valentine's Day.

Given Carey's vocal range, it could take some serious chops to keep up.

"Dreamlover" anyone
---
Lisa Marie Presley is expecting twins
NEW YORK (AP)
her spokeswoman, Cindy Guagenti, said Wednesday. The babies are expected to arrive in the fall.

Presley - daughter of Elvis Presley and actress Priscilla Presley - announced her pregnancy on her MySpace page in March, saying she was forced to go public with the news after photos of her looking heavier were ridiculed in the media.

The 40-year-old singer has two children from her marriage to musician Danny Keough, which ended in 1994. She was briefly married to Michael Jackson and Nicolas Cage.

Presley married music producer Michael Lockwood in January 2006.

"It's her time to celebrate with her husband," Priscilla Presley said Tuesday in an interview with "Entertainment Tonight.""My daughter is a very family girl. She loves children, and I know that she and Michael have been hoping for this for a long time."

She said twins run in the family "on Elvis' side and on my side too. I have twin brothers, and then, of course, Elvis had a twin brother (who died at birth)."
---
Country stars duet with Elvis on Christmas CD
By JOHN GEROME
NASHVILLE, Tenn. (AP) - Thanks to technology, Carrie Underwood, Martina McBride and LeAnn Rimes will be among the country stars performing with the king of rock 'n' roll on "Elvis Presley Christmas Duets."

The new album, due out Oct. 14, will also feature Gretchen Wilson, Wynonna Judd, Sara Evans, Amy Grant and Anne Murray.

Sony BMG is releasing the disc in partnership with Elvis Presley Enterprises Inc. They say it's the late icon's first duets album and the first Christmas compilation of its kind.

"This is an excellent example of the innovative ways in which we keep Elvis' catalog fresh for new and existing fans," said John Ingrassia, president of the Sony BMG Commercial Music Group.


While Presley only recorded 20 Christmas songs, his holiday albums have sold more than 25 million copies in the U.S. alone.

His 1957 release, "Elvis' Christmas Album," is the top-selling holiday release of all-time with 9 million in sales, according to the Recording Industry Association of America.

The Jordanaires, the vocal group that backed Presley on most of those early recordings, are rerecording their parts for the new album.

"It's done in very good taste," the group's Gordon Stoker said Tuesday. "We're doing the same background we did originally on the recordings in 1957."

Work is still under way in the fabled RCA Studio B where Presley recorded. Tracks include "Blue Christmas" with McBride, "Here Comes Santa Claus" with Rimes, "Merry Christmas Baby" with Wilson, "White Christmas" with Grant and "I'll Be Home for Christmas" with Underwood.

"It's amazing what they can do," Stoker said. "Elvis sounds great. The recordings sound as if they were done yesterday."

Priscilla Presley said in a statement that she's pleased with the caliber of artists on the album. "I am sure Elvis would be proud to have worked with them."

Even so, some die-hard fans are wary.

"I don't really like fooling around with things like that. All the Elvis recordings are so good. It kind of bothers me," said Jean Donovan of Derry, N.H., who prepares a quarterly newsletter for a pair of Presley fan clubs.

But Donovan said she doesn't want to rush to judgment without hearing the songs.

Kathie Bryson of St. Louis, a member of the Elvis Memphis Style and TCB Elvis Style fan clubs, said if done properly, the project could enhance Presley's legacy.

"Some people get all upset if they mess with a classic, but if you take a classic like 'A Little Less Conversation,' I vaguely remembered that song until they redid it and now I adore it," said Bryson, 53.

And if any of the young upstarts should try to upstage the King?

"Good luck overshadowing Elvis Presley," Bryson said.
---
Elvis' peacock jumpsuit sells for $300K
NEW YORK (AP) - Elvis Presley's favorite performance costume, the peacock jumpsuit, has sold for $300,000, making it the most expensive piece of Elvis memorabilia sold at auction.

The online sale by auctioneer Gotta Have It! ended at 3 a.m. Thursday. The pre-sale estimate was $275,000 to $325,000.

The white outfit with a plunging V-neck and high collar features a blue-and-gold peacock design hand-embroidered on the front and back and along the pant legs.

The previous record for an Elvis collectible is $295,000 for one of his classic cars. The most ever paid previously for one of his stage costumes, a bejeweled cape, was $105,250. Both were sold at a 1999 auction at Graceland in Memphis, Tennessee, run by Guernsey's.
---

Another Elvis 'sighting'. Seems there are Elvis things to be found all over town. This photo was taken on South 1st Street. Looks like there are some mardi gras beads drapped over the bust.
---
More Elvis photos taken out and about in Austin. The three photos are from two stores on South Congress. I think they were put up for the SXSW Music Festival that took place a couple of weeks ago. The wording partly obscured by the window glare reads King of Velvet



These photos were taken with my cell phone in Austin and Louisiana. Just the fact that there are so many places that you can find images of Elvis show me that his memory is alive and well.




---
Lisa Marie Presley is commemorating the 30th anniversary of her father's death by singing along with him. Elvis Presley's only child, who has released two albums of her own, will premiere the video of a posthumous duet with her dad on his classic 'In the Ghetto' Thursday night at the the 30th Anniversary Elvis Presley Tribute Concert in Memphis. Starting on Friday, it will be available for viewing here on Spinner, as well as for purchase on iTunes for a charitable cause near and dear to the Presleys.

The video, directed by Tony Kaye ('American History X'), was shot in New Orleans, and, as Presley tells Spinner, she was so touched by the lingering affects of Hurricane Katrina that she decided to make this video more than just a tribute to her dad.

"I landed there to do the video, and I looked around when I got off the plane ... It looks like Katrina happened six months ago," Presley says. "So, that's when it all fell together."

The duet -- both song and video -- will be available on iTunes for downloading, starting Friday. All proceeds will go toward the building of a Presley Place transitional housing development for underprivileged families in New Orleans.

"Families come in and live there, get their life skills together," Presley explains about the charity her family originally started in Memphis. "They get jobs and then they save their money, and about a year later, they move out when they can get back on their feet. It's something [Elvis] was very interested in, because it's kinda where he started from."
---
Below are some comments made by people who were inspired by him to become musical artists.
Posted Aug 14th 2007 6:00PM by Spinner Staff
Bob Dylan on Elvis
When I first heard Elvis'voice I just knew that I wasn't going to work for anybody; and nobody was going to be my boss ... Hearing him was like busting out of jail."

John Lennon on Elvis:"Nothing really affected me until I heard Elvis. If there hadn't been an Elvis, there wouldn't have been a Beatles."
Little Richard on Elvis:"Elvis was God-given. There's no explanation.A messiah comes around every few thousand years,and Elvis was it this time."

Keith Richards on Elvis:"Before Elvis, everything was in black and white.Then came Elvis. Zoom, glorious Technicolor."
---
Elvis Presley Statue Unveiled in Hawaii
By MARK NIESSE,AP
Posted: 2007-07-27 09:18:45
HONOLULU (AP) - Elvis lives, and he hasn't aged a bit since his legendary 1973 "Aloha from Hawaii" concert.

A life-sized statue of Elvis Presley was unveiled Thursday at the site of the concert, looking much as he did 34 years ago. His hair is slicked back, vest plastered on, microphone tilted toward his lips and flared pants draped to the floor.

The bronze statue of the King, commissioned by TV Land, is meant as a tribute to the classic show at the Neal Blaisdell Center. It was the first concert to be broadcast via satellite, reaching more than a billion viewers.

"It's about time. Elvis gave so much to Hawaii," said impersonator Jonathon Vonbrana, who had carefully sculpted black hair and wore dark sunglasses. "It's excellent. A lot of the statues don't even look like him."

The sculpture shows Presley at his prime, slim and big-buckled with his collar turned up. As it was unveiled, "See See Rider" and "American Trilogy" played over the loudspeakers.

"It's how I would like to remember him. It's really nice," said Kathy Antonio, who traveled from the Big Island with eight members of the Rock-A-Hula Fan Club, which holds tributes for Presley.

Presley filmed three movies in Hawaii, "Blue Hawaii," "Girls! Girls! Girls!" and "Paradise, Hawaiian Style." He also visited the islands three times for concerts.

The statue was a gift from TV Land, a division of MTV Networks, as part of a tribute to commemorate the 30th anniversary of Presley's death at Graceland on Aug. 16, 1977.

"He was not a native son of our land, but we adopted him as our own," said Mufi Hannemann of Honolulu. "Now we can always say Elvis is part of the building."

TV Land has dedicated five other statues, all of characters from TV shows: Ralph Kramden of "The Honeymooners" in New York; Mary Tyler Moore in Minneapolis; Andy Griffith in Raleigh, N.C.; Bob Newhart in Chicago, and Samantha Stevens of "Bewitched" in Salem, Mass.

MTV is owned by Viacom Inc.
---
MEMPHIS, Tenn. (AP)
Some fans wanting a state-issued Elvis Presley license plate are getting a free ride thanks to a New Jersey Elvis fan who covered their $35 fee for the car tag.

The state requires 1,000 people to pre-order and pay the fees for new specialty license plates before it begins production. If a plate fails to garner the needed pre-order amount by a certain date, it will not be produced.

The Elvis plate, which benefits the Elvis Presley Memorial Trauma Center at the Regional Medical Center at Memphis, was about 100 buyers shy of meeting the benchmark, even after receiving an extension on its deadline.

The New Jersey fan anonymously donated the $3,500 needed to cover the final 100 pre-ordered plates, after hearing about the license plate's troubles on Sirius satellite radio's Elvis program hosted by longtime Presley friend George Klein.

Tammy Ritchey, executive director of the hospital's foundation, The Med Foundation, said the donor wanted no recognition, but wanted to express her love of Presley through the kind of charitable donation he was known for in his lifetime. Of the $35 specialty fee, The Med receives roughly $20 in revenue for each plate sold.

Tennessee has about 130 specialty plates, with different groups receiving proceeds. The most popular salutes the Tennessee Titans football team, but there are others for Korean War veterans, the Smokies and the Tennessee Walking Horse.

Information from: The Commercial Appeal
---
Norway fanclub
"Every year around 18th of may the Elvis Fan Club of Norway arranges a get together for fans on a steam liner between Oslo and Kiel, Germany. All toghether some hundreds are getting together and this year almost 40 from Hamar participated. We rented a bus from Hamar to Oslo and back. A well known band played Friday from Germany and next day in return. And guest artist this year was James Burton. Nice man with whom we got to talk to. We had a very enjoyable weekend aboard." (Photo: James in black baseball cap and Erik in blue shirt) Check out Erik's homepage when you get the chance.
---
Elvis Co-Stars Mark 30 Years Since Death
By WOODY BAIRD, AP Posted: 2007-07-10 18:42:49
MEMPHIS, Tenn. (AP) - His movies weren't exactly works of art, but for the fans there was something magical about Elvis Presley on the big screen, dancing and flirting with one starlet after another. Presley has been dead nearly 30 years, but many of his on-screen girlfriends are still around - and they're still ready for their close-ups.

Suzanna Leigh, who played Presley's love interest in "Paradise, Hawaiian Style" in 1966, has organized an event next month to offer Elvis fans a rare chance to rub shoulders with up to two dozen of his movie-set buddies.

"It's sort of an Elvis reunion," Leigh said. "I'm bringing in a lot of co-stars, directors, people who worked with Elvis."

The three-day bash - with tickets ranging from $75 to $150 - is scheduled to begin Aug. 16, the anniversary of Presley's death in 1977 at his Memphis residence, Graceland. It will be one of more than 30 Elvis Week events in Memphis from Aug. 11-18.

Annual festivities for Elvis Week, the highlight of the year for the Presley faithful, include concerts, fan-club get-togethers, teary eyed memorials, and, of course, screenings of his movies.

And this year, many of his former on-screen playmates will be in town for a gala, billed as "Night of a Thousand Stars," that will include a garden party, storytelling sessions, panel discussions, autograph-signing and a "glittering finale."

"It will be magical on the last night," said Leigh, a British actress who starred in several B-grade vampire-and-horror flicks after her role with Elvis.

Presley made 31 feature films, in most of them playing - what else? - a good-looking, ultra-cool chick magnet. The films can hardly be confused with Academy Award contenders, but the Elvis faithful can't get enough of them.

"The usual question they'll ask me is what was it like to kiss Elvis," said Leigh, setting up an obviously well-used line. "They'll ask was he good, and I often say, `I think he had some practice."'

For many of Presley's co-stars, his films were career highlights. Leigh's autobiography, billed as a behind-the-scenes look into London's "swinging sixties in-crowd," plays on her Elvis connection in its title, "Paradise, Suzanna Style."

"I tell stories about his sense of humor and how much fun we had on the set and how difficult the Colonel was," Leigh said, referring to Presley's longtime manager, "Colonel" Tom Parker.

In 1958, actress Jan Shepard played Mimi Fisher, the sister of Presley's leading character in "King Creole," his most critically acclaimed movie.

"You knew if you got in that movie, it was going to be seen all over the world," said Shepard, who is also scheduled to take part in the Memphis event.

Though she described Presley as a brilliant actor, Shepard agreed with critics who say most of his movies were nothing to brag about.

"You know what those movies were done for? To sell records," she said from her home in Hollywood. "Every movie had an album."

Shepard, whose non-Elvis movies included the "Attack of the Giant Leeches," spent most of her career in television, with parts in numerous Westerns like "Gunsmoke" and "The Virginian."

Presley was held back from developing his acting talent to make quick-profit, formula movies, Shepard said, and his fans should hear from those who worked with him that he could have been a serious actor.

"He was like part of their lives," she said. "It's 30 years since he's been gone, and I just think this (gathering of co-stars) is for the people."

Other Elvis-movie cohorts expected for the Memphis event include Pat Priest ("Easy Come, Easy Go"), Sue Ane Langdon ("Roustabout," "Frankie and Johnny"), Gloria Pall and Jennifer Holden ("Jailhouse Rock"), Gail Gilmore ("Girl Happy" "Harum Scarum") and Celeste Yarnall ("Live a Little, Love a Little).

Some of Presley's better-known co-stars, like true-life love interest Ann-Margret, Nancy Sinatra and Mary Tyler Moore aren't scheduled to attend.
---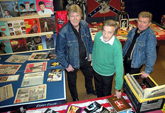 The following is from a news article in Norway. Please excuse my very poor attempt to translate Norwegian into English, but I hope it gives you the gist of the article. There is more to it and I'm hoping that Erik will soon send me a better translation and some more photos from this event.
Few are able to demonstrate more Elvis- disk's and memorabilia than these fans at Hamar; Ole Elvis Else's ( at left), Bun Inherit and Erik Rødahl. On Saturday they displayed a little of their assortment at platemessa in Elverum. Foto+Merete
"Are You Lonesome Tonight" played over  loudspeaker in storsalen at The youth Cottage, as hundreds came, mostly men with solid memories of1950-, 60- and 70.  Stories flowed funny  and touching the from Elvis- enthusiast Ole Elvis Else's, Erik Rødahl and Bun Inherit.
---
Elvis Remains the King of Postage Stamps
By RANDOLPH E. SCHMID, AP WASHINGTON (Dec. 27) - This year's Wonders of America set climbed to second place in the most popular stamps, but Elvis is still the King, the Postal Service said Tuesday. Some 124.1 million of the 1993 Elvis Presley stamps were saved by Americans, according to the post office, which does an annual survey of 10,000 households to determine which stamps are most popular. Rising into second spot was the Wonders of America set with 87.5 million stamps saved, the agency said. "Stamp collecting continues as one of the worlds most popular educational hobbies that the entire family can enjoy," Postmaster General John E. Potter said in a statement. The post office receives stamp ideas from an estimated 50,000 people annually, with 20 to 25 suggestions making it onto postage. The avalanche of ideas is reviewed by an independent advisory committee which sends its recommendations to the postmaster general for a final decision. "The fact that 10 of the top 25 were issued in the last three years serves as a testament to the committee's expertise in selecting dynamic subjects and America's continued interest in the hobby," Potter added. People who want to make suggestions can send their ideas to the Citizens' Stamp Advisory Committee, Stamp Development, U.S. Postal Service, 1735 North Lynn St., Rm. 5013, Arlington, Va., 22209. Following Elvis and the Wonders of America in popularity were Wildflowers, 1992, 76.1 million stamps saved; Rock & Roll/Rhythm & Blues, 1993, 75.9 million and DC Comics Super Heroes, 2006, 73.0 million.
---
Elvis looks to win teenage fans again
12/28/2006 2:10 PM, AP
Woody Baird

Teenagers in the 1950s and '60s went wild over Elvis Presley, much to the consternation of their parents, but kids in the new millennium aren't so stirred by rock 'n' roll's original rebel.
"I can't try to sell somebody Elvis who doesn't know who he is ... that he's not just some guy who's been gone for 30 years," said Paul Jankowski, chief of marketing for Elvis Presley Enterprises Inc.
Next year, three decades after Presley's death, the multimillion dollar Elvis business will try to connect with a new generation of teenage fans.
"Our opportunity demographic is really going to be 12 to 34 (years old), with a sweet spot around the 18-to-24 area," Jankowski said.
In the early days of Presley's career, teenagers gathered at jukeboxes or around 45-rpm turntables. But now the music has moved to the Internet, on sites like MySpace, which is part of Rupert Murdoch's News Corp., and Google Inc.'s YouTube.
Next year more film clips, photos and other material from the vast Presley archives will be showing up online.
"We will take our MySpace page and we will focus on expanding our number of friends on MySpace, that kind of thing," Jankowski said. "There's all kind of Elvis content on YouTube, things that we put up, things that fans put up."
MySpace is a social-networking site that lets visitors share photos and personal Web pages. YouTube lets users post and share videos.
The Elvis archives offer a rich source of material for "digital tactics," Jankowski said. "You know, for cell phones or doing wallpaper or doing podcasts."
Moving Elvis content online should be easy; making Elvis cool again will be more difficult. After all, for most kids, Elvis is the music of their parents' — or grandparents' — generation.
Aaron O'Connell, a 17-year-old from Fredericksburg, Va., who was visiting souvenir shops at Graceland, said it could be tough to make Elvis relevant again.
"Probably in today's world, like, he wouldn't be as cool, but back then he probably was," said O'Connell, a high school junior in town for the Liberty Bowl football game.
Presley managers are preparing for a big year, particularly for the weeklong series of concerts, fan-club gatherings and other death anniversary events held each August at Graceland, which draws more than 600,000 visitors annually.
Presley died of heart disease and prescription drug abuse at age 42 at Graceland on Aug. 16, 1977.
Elvis Presley Enterprises has more than 200 licensees producing souvenirs and signature products, and new ones for 2007 will have a youthful focus, like a peanut butter and banana cream candy bar from Hershey with the King's picture on the wrapper.
A Harley-Davidson dealer, with plans to open an office at Graceland, is coming out with a limited line of 30 custom-made motorcycles — just like the ones Elvis rode.
Prices aren't yet set, but the one-of-a-kind Harleys could run up to $50,000. And while that's well beyond the reach of most teenagers — or Elvis fans in general — the replica bikes are also part of the cool factor in Presley marketing.
"The new owners will be flown to Memphis and they'll pick their bikes up at the steps of Graceland," Jankowski said.
Jankowski was brought to Memphis by CKX Inc., the company that took over Elvis Presley Enterprises and Graceland after buying the rights to Presley's name and image last year from daughter Lisa Marie.
Forbes magazine says Elvis, one of the top-grossing dead celebrities, brought in $42 million over the past year. But with the aging of Presley's longtime base of admirers, EPE needs a new wave of younger fans.
"We want to reinvigorate our core demographic and grow it," Jankowski said, "while we introduce the icon to the next generation."
---
(excerpts taken from the USA Today article by Oren Dorell)

 Japanese Prime Minister Junichiro Koizumi's last official visit to the United States, will be a tour of the Graceland Mansion a long desired dream for the self-described Elvis "maniac". Prime Minister Koizumi will get to visit the home and final resting place of the King on June 30, a day after he completes his meeting on human rights and the U.S.-Japan alliance, the Japanese Embassy said.

"Thousands of Japanese tourists visit Graceland each year. But this will be the first visit by any sitting president or world leader," said Jack Soden, chief executive of Elvis Presley Enterprises, which manages the estate.

Koizumi is to step down in September. He will leave as Japan's longest-serving prime minister and, perhaps, the only leader of Japan to wear his graying hair in an Elvis-like mane.

He and his brother, Masaya, have been members of the Elvis Presley fan club in Tokyo for more than 30 years, Soden said. Both Koizumi, 64, and Presley were born on Jan. 8. Presley, 42, died in 1977 but Koizumi has not forgotten him.

Last year Koizumi crooned to Bush his favorite Elvis tune, I Want You, I Need You, I Love You at a 59th birthday party for a foreign dignitary at the G8 summit in Gleneagles, Scotland hosted by Queen Elizabeth II of Britain.

In 2001 a Japanese record label produced a charity CD called Junichiro Koizumi Presents My Favorite Elvis Songs. The cover shows a digitally altered image of Koizumi standing by Elvis in Graceland.

Soden said the idea for a visit started with the White House. Aides there were trying to think of a unique Elvis-related gift for Koizumi. It occurred to them that "the best Elvis gift" would be a visit to Memphis.
---
Secretary Norton Designates Elvis Presley's Graceland Mansion National Historic Landmark
Click on the following  link to see the press release.
 Sold: Elvis Presley's house goes for $905,100 Mon May 15, 2006 1:06 PM ET

CHICAGO (Reuters) - Psychic Uri Geller and two partners have bought the Tennessee house Elvis Presley lived in before moving to Graceland, with a winning bid of $905,100 on eBay, he said on Monday.

"We are unbelievably pleased. This is a piece of history," Geller said by phone from England.

"We intend to restore it to its old glory. We would like to bring sick children there (for tours), Palestinian children, Israeli children, American children," the Israeli-born Geller said. "Hopefully one day we might get approval to turn it into a museum."

Presley bought the four-bedroom, two-bath house at 1034 Audubon Drive in Memphis in 1956 with a down payment of $500. He lived there for 13 months before moving to Graceland, the now-famous Memphis estate where he died in 1977.

During his time in the white, ranch-style house with an outdoor swimming pool, Presley's career took off with hits such as "All Shook Up" and "Don't be cruel."

Geller identified the sellers as Mike and Cindy Hazen, who bought the house some years ago, though not from Presley, for about $180,000.

Geller had original bid $300,000 last month but a bidding war ensued and the price ballooned, he said. During the process he was approached by dozens of people wanting to go in with him, he said. He chose two, New York lawyer Jim Gleason and Lisbeth Silvandersson, a Swedish-born jewelry maker who lives in England, as equal partners.

He had set a ceiling price of $1.11 million, said Geller, who acknowledges a paranormal fascination with the number 11.

"As the clock closed on the bidding Sunday," Geller said, "I felt intuitively I got the price. I was text messaging Gleason and it was exactly 11 on my mobile phone and suddenly the radio started playing an Elvis song. That was Elvis telling me we got the house!"

Geller met Presley in Las Vegas in the 1970s after the "King of Rock and Roll" asked him to perform his "spoon bending" trick for him, he said. Since then he has amassed a large collection of Presley memorabilia, he said.
---
Graceland Hosts Grand Opening of Two New Elvis Exhibits
MEMPHIS, Tenn.--(BUSINESS WIRE)--March 20, 2006-- The Two Exciting New Exhibitions in the Graceland Visitor Center -- Elvis '56 and Elvis After Dark -- Feature a Provocative Array of Items -- Many Never Before Shown -- Culled from the Vast Graceland Archives

Graceland officially opened two new Elvis exhibits -- Elvis '56 and Elvis After Dark -- today in Memphis, many with archival items never before shown.

The Elvis '56 exhibit is part of Graceland's year-long celebration of the 50th anniversary of the year Elvis Presley became a superstar. The exhibit depicts the professional and personal highlights of this pivotal year with photography, footage, archival documents, wardrobe and personal items recalling his historic television appearances, his memorable concerts, his first mega-hit recordings, his first movie and the introduction of the big business of Elvis merchandising.

Items in the Elvis '56 exhibit include the famous Gibson guitar Elvis used during many performances and recordings that year, his never-before-seen bedroom nightstand from the Audubon Drive home, personal copy of his 1956 hit movie "Love Me Tender," his first TV Guide cover, and correspondence between Elvis' manager to Ed Sullivan regarding details of his 2nd appearance on the show in New York just to name a few.

The Elvis After Dark exhibit is themed around that fact that, for much of his life, Elvis was a "night person." After the sun went down, Elvis came out to play -- after-hours shopping sprees at department stores, renting out the Memphis Fairgrounds as his own personal amusement park, turning the Memphian movie theater into a private screening room for him and his friends, hosting parties at home and at local clubs, late-night appointments with his jeweler, flashing his police credentials to "work" a car accident scene, and more.

Some of the artifacts on display are: A funky fiber optic lamp that usually sits atop the console TV in Elvis' Graceland bedroom, a statue of Jesus from his Graceland bedside, Elvis' jukebox and TV (complete with a bullet hole through the screen) from one of his California homes, his "King of Spades" and "That's The Way It Is" jumpsuits, and also from one of his California homes the pool table on which he and the Beatles played a game. For a fee, visitors can play a game on the table and join the ranks of John, Paul, George and Ringo.
From the LA Times
---
Charlie Hodge, 71; Former Backup Singer and Guitarist for Elvis
From Times Staff and Wire Reports
March, 6 2006
Charlie Hodge, 71, formerly a backup singer and guitar player for Elvis Presley, died Friday at a hospital in Knoxville, Tenn. For the last 15 years, Hodge performed in tributes to Presley at Memories Theater in Pigeon Forge, Tenn., with Presley impersonator Lou Vuto. Theater officials said Hodge had been undergoing treatment for lung cancer.
Hodge met Presley when they served in the Army. After their service, Hodge worked with Presley and lived at Graceland for 17 years.
"We're all Elvis fans who work here, and Charlie made us feel so close to Elvis," Vuto said. "When you hung out with Charlie, it was like you were hanging out with Elvis and Charlie."
The Alabama native's musical career also included singing with a number of quartets, including one with gospel great Bill Gaither.
If you'd like write condolences, visit http://259748.multiguestbook.com/st_0.html.
---
Elvis named top race driver in films
Q. A recent television show, "ESPN Hollywood,'' named the top five drivers of all time in films, but I missed it and only heard that Elvis Presley was named. Do you know who all five were? -- E.J., Chicago

A. Ranked by Peter Bonventre of "Entertainment Weekly," the top five drivers named, starting at No. 1, were Presley, who played a racer in the films "Viva Las Vegas,'' "Spinout'' and "Speedway;'' Burt Reynolds in "Cannonball Run;'' Sylvester Stallone in "Deathrace 2000;'' Paul Newman in "Winning,'' and Tom Cruise in "Days of Thunder.''
---
American Idol' Finalists Visit Graceland
AP
MEMPHIS, Tenn. (May 7) - Calling Elvis Presley America's "first idol," Priscilla and Lisa Marie Presley welcomed the finalists of "American Idol" to Graceland amid cameras and screaming fans. You can also view the new road trip commercial featuring Dolly Parton and Elvis.
---
From the Sydney Morning Herald: Crackdown on Elvis impersonators
April 19, 2006 - 11:06AM
Aussie impersonators of The King are all shook up, but hope they have nothing to fear from a crackdown on unauthorised Elvises.

Billionaire US media entrepreneur Robert Sillerman last year paid $114 million for an 85 per cent stake in Elvis Presley Enterprises, which owns the rights to Elvis's name and likeness.

Mr Sillerman has said the company will crack down on unauthorised Elvises, as it plans an Elvis exhibit and cabaret show on the Las Vegas strip.

But organisers of the Parkes Elvis Festival in NSW's central west say the US-led crackdown will have little effect on the event.

Festival spokeswoman Monique Kronk said the organisation was seeking legal advice about the crackdown, but that change would have minimal impact on the event.

She said many professional Australian Elvis impersonators were already licensed with Elvis Presley Enterprises.

"We have paid professional impersonators that come to Parkes," Ms Kronk said of the festival, which takes place in January each year.

"Many of those impersonators are licensed but they will all need to be licensed.

"But we don't have any specific directives on how these things will be different. We haven't heard any news of what we can expect on the future."

Ms Kronk said she would contact Elvis Presley Enterprises about how the crackdown would affect "hobby" impressionists.

"If those hobby impressionists are affected by this, then we would be approaching Elvis Presley Enterprises on their behalf to ensure that some sort of licence will cover them for that festival weekend," she said.

Associate Professor of Law at Melbourne University Andrew Kenyon, who specialises in copyright law, said it was unlikely unauthorised Elvis impersonators could be stopped in Australia.

"The law's approach to protecting an image varies quite a lot between the UK, US and Australia," he said.

"There is not a specific area of law that applies to it (in Australia). There might be certain registered intellectual property rights that could apply. There might be things like defamation. There might also be commercial actions related to passing off or deceptive conduct.

"If you could have a mix of those then that might apply."
---
If you want some great Elvis fabrics to make a shirt, dress, pants or whatever for your next Elvis event check out this great website for a good deal Fabricblowout.com (The fabric was sold out the last time I looked so you might want to check the site from time to time to see if more has been added.)
---
Gosh I need to pay attention more. Caught the start of the Las Vegas television series and was delighted to hear A Little Less Conversation by Elvis was the theme song. Wow! Who would have thought that a not so A list movie (although I liked Live a Little, Love a Little) could produce such a hot song. Elvis still rocks Las Vegas and us. (ps: check out imdb.com and see what other films and shows have used his music)
---
January 8, 2006
I really am not comfortable when people hold "Happy Birthday" parties for those who are deceased. Memorials on that day I can deal with but not parties where they sing Happy Birthday...sort of creeps me out, but hey to each his own right? Anyway it's nice to remember those who have passed on and in the case of Elvis play some of his music or one of his better films and enjoy his talent. We shall never see the likes of him again.
---
1935
King of Rock 'n' Roll Is Born!
TUPELO, MISS. -- Elvis Presley, who would later become known as the "King of Rock 'n' Roll," was born in Tupelo, Miss. to Vernon Elvis Presley and Gladys Love Smith. Sadly, his twin brother, Jessie, was a stillborn.

Presley began his career as a child, singing hymns and gospel tunes in church and at state fairs. At age 18, he walked into a Memphis studio and was paid $4 to record 'My Happiness' and 'That's When Your Heartaches Begin' as a present for his mother. The owner of the studio, Sam Phillips, recognized the teenager's talent and helped him score a record deal. Presley was an almost immediate success, bringing to the music industry a new sound, infusing rock 'n' roll with country music, R&B and gospel.

He quickly became an international sensation, as well as an international controversy. Elvis' hip-shaking moves and sometimes rebellious lyrics made youngsters swoon but their parents cringe. He also took that sexy persona to the big screen, starring in 33 films. "The King," as he was called, enjoyed steady chart success from the mid '50s through the mid '70s, selling more than a billion records to date. On August 16, 1977, Elvis died of cardiac arrhythmia -- a form of heart attack -- inside his Graceland mansion. He goes down in history as one of the most important figures of popular culture. He would have celebrated his 71st birthday today.
(primary information taken from article on AOL entertainment page-check it out for downloads of tons of Elvis music)
---
---

Thank to Eithne for giving me a heads up on the documentary on Elvis's gospel music. Elvis: He Touched Me. Check your TV Guide for dates and times.
---

For those of you who didn't catch the recent Elvis Bio Pic, Elvis: The Early Years, you missed an interesting inside look at the young Elvis. Of course since Elvis is gone this movie can only look at the events in his life from the side of the person who was on the outside looking in. No one really knows what the man himself was thinking but I guess a film like this is as close as we'll ever get to the inner mindset of this great entertainer. The documenter that  followed a few days later Elvis by the Presleys was interesting and we got some insights on how Lisa Marie viewed her famous father. Some people truly loved him and some were just were there for the money but no one loved him enough to tell him no and to stop doing the things that were hurting him. He was a grown man though and certainly intelligent enough to know that some of the things he was doing were not in his best interest. We can only imagine what the mature Elvis would have been like and how much more beautiful music he could have made. My hope now is that he is at peace and that somehow he knows how much the work he did gave millions so much pleasure. DVD collections of both shows are available through the official Elvis Presley website and other places like Amazon and Barnes and Noble.
---
Our nephew Jimmy recently visited Tupelo and was kind enough to share these great photos with us. The birthplace of Elvis Presley has been preserved and added to a great deal but look beyond the improvements and you can imagine the humble beginnings of this great entertainer.
| | | |
| --- | --- | --- |
| 1. Jimmy standing by statue of young Elvis in Tupelo, MS | 2.Jimmy in front of the house where Elvis was born in Tupelo | 3.Jimmy in the bedroom where Elvis and his twin brother were born. |
Photos are property of J. Marshall, March, 2005  Click onto thumbnails for larger version of photos.
---
If you didn't get to see Lisa Marie and Priscilla on the Oprah show you can go to the above link and catch the video and photo gallery. On May 8th and 11th, 2005 you you can also watch the new Elvis Miniseries,Elvis, The Early Years, starring Jonathan Rhys-Meyers as Elvis, Camryn Manheim as his mother Gladys, and Robert Patrick as his father Vernon. The production was made with the full cooperation of the Elvis Presley Estate. Master recordings will be heard during the biographical film.
---
Like to sing along with Elvis? Here's a great link with the lyrics to his most popular songs.
By WOODY BAIRD lyrics
MEMPHIS, Tenn. (AP) - Elvis Presley's "That's All Right" played simultaneously on radio stations around the world Monday to mark the 50th anniversary of the rock 'n roll icon's first professional record.
Scotty Moore, Presley's first guitarist, hit a button on a control board at Sun Studio to begin the satellite broadcast to 1,200 to 1,500 stations.
Outside the small studio where Presley cut the record on July 5, 1954, a street party was under way, with bands performing on a sound stage at Sun's front door. More than 2,000 participants turned out by early afternoon.
"That's All Right" now enjoys a prominent place in the history of American music, but it wasn't an immediate hit.
"A lot of people think it was an overnight success, but we paid our dues for two years on the road in Mississippi, Arkansas, Tennessee, Texas before RCA picked us up," Moore said.
Music historians regard the recording of "That's All Right" as a milestone in American pop culture.
"Elvis would be the first to say he didn't create rock 'n' roll. Rock 'n' roll came from an evolutionary process going back probably to the 1940s," said Kevin Kane, director of the Memphis tourism bureau.
"But there was a defining moment that took place on July 5th, and we just figured this is as good a time as any to celebrate it."
Isaac Hayes, who recorded for Memphis' Stax Records in the 1960s and 1970s, and singer Justin Timberlake, a Memphis native, joined Moore for the ceremony.
"He brought a lot of cultures together," Hayes said of Presley. "He brought a lot of music together."
---
July 20, 2003
1.Elvis festival in Denmark 2001. Erik (tan jacket) with Scotty Moore. 2. Elvis event last summer in Oslo, Norway 2001;   Erik with Glenn D. Harding
"I had him (Scotty) autograph the cover of an Elvis single from the 50's where he was backing Elvis. I have a lot of video from his performances here. When I saw into his eyes, I knew I was looking into a couple of eyes that were present at the very beginning of Elvis' career. That all of the thing we wonder how happened, and how everything was back then, ...he knows, because he WAS there. I think that was fascinating to think when I had him in front of me. Right?"
---

Elvis in Texas: High-Voltage Hound Dog
by Blair Case-Texas Highways
Back in the early '50s, before Ed Sullivan, before he hit the big time, Elvis played the state from Lubbock to Longview. Learn about the beginning of the King's reign, as we rock down Memory Lane.[more of this article to be posted soon.] The rest of the article can be found in the Texas Highways Magazine..all the photos shown to the left and below have be scanned from the magazine.]
---
April 8, 2000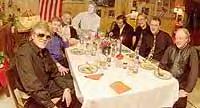 "The story around it is that we are a bunch of oldies that since many years have been gathering twice a year, celebrating Elvis' birthday and in august memorizing his life. WE do this to keep the memory alive and to talk and laugh about all we did as youngsters in the 60's when we were bicycling around to watch the Elvis movies that were shown in the cinemas outside the town. And it's also a good excuse for getting together and have a ball. I can assure you,we really let our hair(what's left of it) out when we show films like Jailhouse rock on the big wall screen and the main title song is performed. Imagine 6 boys in their 50's when they rock and roll on the floor. Real glad that the wives don't see us. But we have fun. This January somebody tipped the newspaper about it.So here's the result. (laugh) From the left is : Ole Elvis,Erik (me), Ingar, Elvis A., Knut R.,Mads, Thor (the host), Leif "Liffen". Maybe you wonder about the name Ole Elvis ? His name was Ole Anders until november -99. Then he applied, and changed it to Ole Elvis. We have called him so since late 50's anyway, so to us it was no difference.Well, Rose, hope you liked my little story, I see you later.My best to all of you !!"(written by Erik R.)
---
My Favorite Memories of Elvis
by JoAnne

I was a teenager in the 1950's and therefore privileged to be "there" during the early days of Elvis! The first time I saw him I swallowed my gum! The second time I had my picturemade with him. The third time was definitely a charm!! He kissed me and asked me to go out with him after the concert. Of course I didn't get to go - parents were not very friendly toward Elvis in the 50's! But I do still remember that kiss!!
I went to various other concerts over the years, but in March 1977 Elvis was at last returning to Austin for a

concert. This was the first time in 21 years he had appeared in Austin. Why we would decide to go out for dinner before that concert is beyond me - but we did. Whether we had T-bone or sawdust - to this day no one knows!! The concert was wonderful and no one wanted it to be over. It was wonderful seeing him in concert, but oh for those wonderful early concerts when you could walk right up to him to talk, for an autograph - or even a photo.
Although Elvis has been gone 22 years his incredible music lives on and his memory stays in the hearts of millions of his fans.