News and Things to Share
---
04/13/07 
Snow made a visit to central Texas over the Easter holiday and here are a few photos that Pam took of Lauren when they were at Lake Brownwood over the Easter weekend. This weather I might add is unusual for central Texas in the winter much less in the spring!
---
Derick our grandson is our second grandchild to graduate. Hope you enjoy the photos. More can be found on my blog Bupkiss.Starting left to right. 1. Derick with his class (575) 2.Cyndi & Derick 3.Frank (grandpa on his mother's side) and Derick 4. Frank, Derick, Thomas Figaro (Grandpa on his father's side) 5.Cyndi, Derick, Thomas 6. Rose (grandma), Derick, Nellie (great-grandma)
---
07/26/2006




1. Pam playing badminton, 2. Frank and Rick watching us watch them...hehe 3. Lauren cleaning! 4. Derick waiting for a good lob to come his way. 5. Krystal and I inside...it was cold out there! These were taken over spring break at the cabin Rick and Pam rented on Lake Buchanan.
---
1. The cardinal...currently the star of our backyard. 2. The front porch of our home with purple and red petunia hangingbaskets, white geraniums, and awesome red amaryllis.
---
1. Frank putting in a new walk way to the little storage shed. 2. My fabulous Mom ready for a dance.
---
Aug.13, 2005
Above photos taken by Jimmy M. during their visit to Austin on 1. Passion Flower 2.Mary, Frank, Rose 3.Mary and Cyndi 4. Rose, Cyndi, Frank, Mary
---
Krystal and Rose experiencing movie making at the Lord of the Rings Exhibit at Houston Museum of Science on August 12, 2005. Why is they can make anyone look big or small but not do anything about the size of my red clad hips!!!
See some photos of Krystal and Rose taken in Houston at the Lord of the Rings Exhibit...which is awesome! (the exhibit not our pictures)

---
Our Mom, Nellie ready for the 2005 Valentine's Day Dance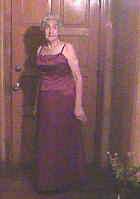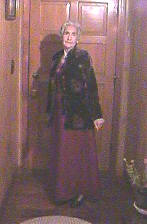 ---
Austin,TX Oct.30, 2004
Halloween Party, Val's house, . Nellie in green, Krystal seated, Becky on floor 2. Krystal-goth fairy, Malissa-pink diamond ring, Rose-farmer 4. Krystal, 5. guess who is Shrek! :-)
---
Lance Armstrong in parade in Austin, Tex August 13th, 2004 (photos taken by Krystal C.)
---

A good friend comes to visit us. Judy, my former boss from the County Clerk's Office and good friend for many years came with her husband Don to visit us in Austin in January. (to see larger photo just double click on it)
---
Left to right: 1. Carr Clan Christmas 2002! (nothing like being late) Evie in pink, Cyndi, Derick, Pam, Frank, Frankie, then Krystal, Lauren, and me looking shorter than ever! 2.While Lauren and Krystal seem to be having a good time their cousin Derick in the background looks like he's still asleep. 3. My father Ollie is sneaking up on our son Frankie.4. My brother Leto looks a bit wary of all the controlled chaos taking place.
---
Sandi and Jerry's great adventure! 10-21-2004
---

Frank's winning ticket 5 thousand dollar ticket. ( few years ago)
---
Kids are a great healing force. It snowed on Sunday a week after my Dad passed away (2-8-2004) and kids do what kids do when it snows. It was fun to see them play and laugh. (Krystal, Olivia, Ollie)

---

Yea! The house is now a home. Frankie and Sandy have started moving in and hopefully some inside photos coming soon. I hope you are enjoyed their journey.
---
12/20/03
Ed (Frank) and Rose-Tuesday Morning Christmas party

---
Rose and Steve the Cat who sadly passed on of old age on July 5. Our car that was side-swiped on 8-12-03 6. Taken on my 59th birthday with our daughter Cyndi and son Frankie (Ed, Jr.) 7. Krystal on cello and Lauren on viola serenading us in the backyard July of 2003
---
August 2003
Our trip to the Austin Zoo: 1. Frank (Ed) & Lauren, 2. Frank (Ed) Lauren (blue shirt, Krystal black shirt), 3. Krystal and Lauren (the small 'deer hog' can be seen between the trees, 4. Lauren looking at various animals, 5. Krystal hiding, 6. Lauren and the friendly cat who lives at the zoo
---
Tammy and Josie, Josie, Josie (thanks to Jimmy for sending these in)
---
Krystal, Olivia, Lauren...all celebrating November birthdays.
---
We had a nice visit from Jimmy who is Frank's nephew. He's the first of Frank's family to ever meet my parents and we've been married over 40 years! 1. Rose, Jimmy, Frank 2. Jimmy, Krystal (Nov. 04)
---
August 15, 2003
1. Bailey Rose, 6 months 2. Sandy with grandchildren Dillon, Connor, and Bailey Rose. Grandmother's are looking younger all the time!


---
August 12, 2003
1.Marina, 2. Roser and Nenes, 3. PaymentControlGroupPicSupervisor John Rogers, Jose Perez, Ruby Williams, Vanessa
Hendrickson, in front Tom Cook and our son Ed (Frankie) 4. Jimmy and Joye (our nephew and niece).5.Here is a group pic of the people in our mail and file section. In back left to right: Kim Graham, David Farmer, John Rogers In front left to right: Tammy Melgar, Leyda Cruz, Judy Cade Not Pictured: Victor Cavalier (was off that day)
---
July 4, 2003

Here's a great picture of Karla's son Kris who is serving in our armed forces in Iraq. To quote Kris "he helped unload and prepare 1,182 bars of gold that was confiscated at a checkpoint near Kirkuk for shipment to Kuwait." We know Karla and the rest of her family are proud of Kris and are very happy that he is due to rotate home soon.
---
Pam who recently graduated from ASU University in San Angelo has passed her RN state board license exams and is now an official RN. Yahoo!
May 10, 2003
Pam Graduates from ASU
Please enjoy the photos shown below. They are from the May 10th, 2003 ASU Commencement Ceremonies. Needless to say we are all very proud of Pam for obtaining her Associate of Applied Science In Nursing degree. She is now (pending her state boards which we know she'll ace) an RN. Going back to school after 16 years is never easy but with determination and grit it can be done...Cyndi inspired Pam to go back and complete her education as she did and that's one thing that families and friends are all about, love and support. Click on thumbnail for larger view and for copying. (these photos were taken with a little 19 dollar digital camera from Walmart...not too bad)
1. Pam 2. Krystal, Pam, Rose 3. Cyndi, Pam 4. Cyndi, Pam, Lauren, Derick 5. Rose, Pam, Frank 6. Pam,Rick
---
February 24, 2003
Great news on the baby front and it seems to be girls all around! Roser and German welcomed a new daughter in December of 2002. The new little one is named Alba ( I hope I have that right-forgive and correct me if I'm wrong) and her big sister Marina is very proud of her. Also Sandi And Jerry have a their first grand-daughter and she is named Bailey Rose. So congratulations to both families on their new additions.
---
Our youngest daughter Evie (and sponsor of our page) is having some paintings of hers shown in an art show for young artists in Seattle, WA the first of March. We're all proud of her. Below are the paintings she's showing and you can click onto them for a larger view. The painting of the mask shown on the bottom row sold for $200 hundred dollars on June 2.
---
June 5, 2002


Roser and German's daughters. Krystal's graduation photo
---
May 24, 2002.   
Krystal graduated from high school and Lauren had a small ceremony to take her from grade school to middle school and Derick is going on to high school. We had a nice family get together in to celebrate the great changes in each of their lives. Times like these always bring to mind the song Sunrise/Sunset, can this mean that with grand children graduating that we are getting old?
---
May 6, 2002
Lots of news coming in May. Our grand daughter Krystal is graduating from High School! (can we be this old) Also she made the list of Texas Scholars and Who's Who in High School and is going to state finals with her Chamber Trio in late May. Derick our grandson won a web design contest held by his school district, his was the best of all junior high students who entered. You can check out his winning design at http://www.roundrockisd.org and click on the Hot News link and then on D. Figaro.  The other students won are also listed and they too have great web designs.
Elaine H. had a nice visit from her son Patrick who lives abroad. Sandy's daughter is going great guns in nursing school and Estelle is in England for an extended stay.
---
March 25, 2002
Frank and I are now Great-Uncle and Aunt! Check our the lastest arrival to our family. Noah.
Proud Grandparents Mary and Jim, proud Dad Joe and the very handsome Noah.
---
07/26/06
Family pictures to share:
On the left Evie as a Butterfly for Halloween 2001...on the right Krystal at the cello.[click on thumbnail for larger photo]
---
March 4, 2000

Marina is growing and growing!  Here for you to enjoy are two new photos a her and her mother Roser.
---
One of my favorite photos of my husband Frank